Recipe - Green chutney/Cilantro and Mint chutney/Hara dhania ki chutney/Kothimiri-Pudina pachadi)


Spicy cilantro and mint spread
Summary:
Mint leaves are very good for reducing mucus in the system and also improves digestive system. Hence useful in asthma and mucus elevated conditions. It is also useful in poor digestion and heaviness of stomach. cilantro/coriander leaves are very good for heavy metals detoxification. Several studies shows that eating fresh cilantro/coriander leaves increase the excretion of heavy metals in urine. The benefits of mint and cilantro are provided by Dr. Pradheep Chhalliyil who has a health related website of his own,
www.sakthifoundation.org
Green chutney can be served as a side dish with parathas. Cilantro chutney goes well with snacks like samosas/vadas/Bhel puri/pani puri and so on. In cilantro chutney, mint leaves can be added for flavour. Shelf life for this chutney is 15 days or more.
Ingredients:
Cilantro - 1 bunch ( 3 cups chopped approx)

Mint leaves - 1 bunch (1 cup chopped/leaves approx)

Green Chilies - 15 (Indian depending on the spice level)
Onion - 1 medium size ( 1 cup chopped or more approx)
Salt - 1 teaspoon
Sugar - 1 teaspoon

Amchoor (dry mango powder) - 1 and 3/4 teaspoon OR Lemon juice - 1 and 1/2 tablespoons
Process:
Wash and chop cilantro, mint, greenchillies and onions.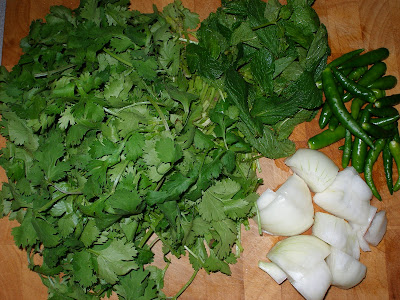 Grind all the above ingredients with salt, sugar, amchoor, and green chilies. Dish out in a clean container. Refrigerate for longer shelf life.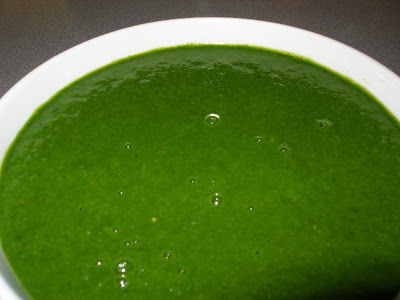 Preparation time - 15 minutes
# Servings 8 - 10