Recipe - Palak saag with chana dal (palakura senga pappu/ akkura pappu)

Spinach soup (Spinach cooked with bengal gram)
Summary
Spinach has high level of iron and calcium content for a vegetable. Spinach is also rich in vitamin A. Spinach is not only healthy but tastes very good if cooked right. Spinach is also eaten as a salad. Chana dal is low in fat and high in dietary fiber and a healthy source of carbohydrates for people with diabetes. Nutrition source is from wikipedia.

Knowing the benefits of the greens, I try to cook greens at least twice or thrice a week. Kids usually don't like to eat greens. I usually blend/grind some of the greens to save myself from all the fuss.
For Palak saag, I add chana dal to serve protein and vegetable in a single dish. For variation, toor dal can be substituted for chana dal and different kinds of greens can also be used instead of spinach.


Ingredients:
Spinach - 1 bunch (approximately 4 cups or 10 oz frozen spinach)
Chana dal - 1 Cup
Green Chillies - 1 Serrano pepper or 1 big Indian chili cut in length (optional)
Dry red chillies - 1 (optional)
Chilly powder - 1 teaspoon (according to spice level)
Turmeric - 1/2 - 1 teaspoon
Cumin seeds - 1 teaspoon (for seasoning)
Mustard seeds - 1 teaspoon
Hing (Asafoetida )- 1/4 teaspoon)
Salt- 1 and 1/2 teaspoons (according to taste)
Ghee/Oil - 2 teaspoons
Lemon juice - 2 tablespoons (optional)
Spinach cutting:
Wash and cut spinach into thin leaves. Slice green chili in length.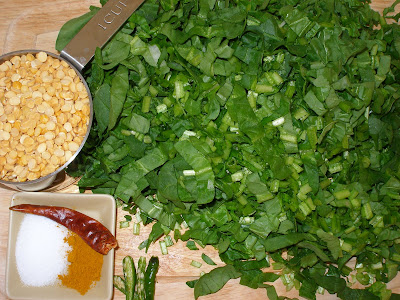 Process:
Wash dal, add 3 cups of water and add spinach leaves, salt, turmeric and green chillies. Pressure cook dal till 4 whistles. The temperature should be medium high.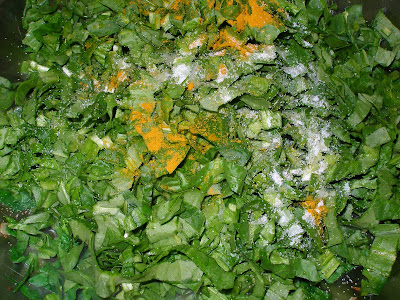 After the pressure releases, blend all the ingredients together in a grinder/mixer (optional). Add water to bring it to desired consistency.
Seasoning:
Preheat oil in a kadai (skillet). Add cumin and mustard seeds for seasoning. After you see the seasoning seeds splutter, add red chillies (optional) and hing (asafoetida ).


Add the seasoning to the dal and add lemon juice (optional). Cook it for 2-3 minutes. Serve with roti or rice.




Preparation time: 30 minutes.
# Servings 3 - 4